Buckaroo's Flightgear Projects
I've done a lot of work with DDS files outside of Flightgear, so I thought I'd share what I know.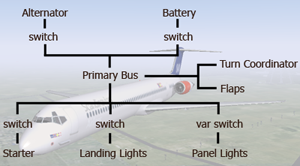 A Nasal-Based Generic Electrical System
Need an easy to use and easy to set up electrical system for your aircraft? All you have to do is configure a little bit of XML and you can have a working electrical system up in minutes. No programming required!
Features include suppliers, connectors, components, outputs, and a variety of switching options, all customizable using a single fairly simple XML file. And, if you want to hack it to add your own features, it's fairly easy to add your own modules as it's all based on open, GPL-licensed, Nasal scripting rather than closed, compiled C++.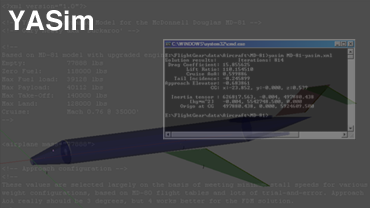 Guide to YASim
I've been slowly collecting notes from my experiences with YASim, one of Flightgear's two primary flight dynamics models (FDMs). YASim is poorly documented, and this is an effort to make the path easier for others than it was for me. There's still work to be done, but I'm making sections available as I assemble them in the hopes that they prove useful. Note that my guides will likely be helpful only for fixed-wings as I have no experience with YASim helicopters.
Here are topics from my guide to using YASim with Flightgear:
Contents
About the guide
What is YASim?
Basic Layout of a YASim Flight Model
YASim Fuselage Elements
YASim Flight Surfaces
Understanding YASim's Stall Elements
Induced Drag and YASim
YASim's Piston-driven Propeller Engines
YASim Turboprop Engines
YASim's Jet Engines
YASim Landing Gear and Surface Interaction
Inertia Tensors and YASim
YASim Weight and Balance
YASim Approach and Cruise Settings
YASim Solutions
Troubleshooting YASim Solutions
Common YASim Problems

Please contact me if you wish to copy or otherwise use any portion of the guide. I can be reached as "Buckaroo" on the Flightgear forums or as grneely on Google's gmail service.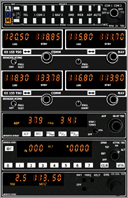 Free GPL Avionics Stack For Flightgear GA Aircraft
This package includes my simulations of these Bendix/King devices:
KMA-24 Audio Panel
KN-62a DME
KR-87 ADF
KT-76c Transponder
KX-155 NavComm

They can be used individually or as a stack. Their dimensions conform exactly (or near enough) to the real units. See the included README and other notes for details on functionality and implementation. These were entirely made by me, so blame me for any problems.
For examples of installation, see my Velocity and Optica models. If any resource is missing, contact me or seek it in those aircraft packages. Feel free to contact me if you have any issues or questions. I'd appreciate credit where applicable if you choose to use these simulations or derive simulations from them.
Released under GNU GENERAL PUBLIC LICENSE Version 2
Some of my aircraft models are currently not available for anonymous download. If you wish to receive a copy of any of these models, please contact me at grneely@gmail.com or via the Flightgear forum. I apologize for the inconvenience.

-Buckaroo, April 30 2015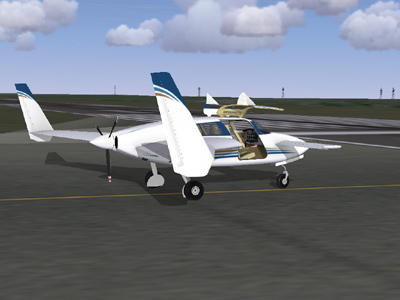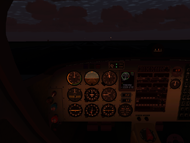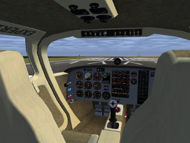 Velocity XL RG
Sleek, fast, comfortable and eye-catching. This is the Velocity XL built with the retractable gear option and powered by a Lycoming IO-540. The model features:
Fully animated
Complete cabin modeling
Complete instrumentation and avionics
An engine simulation that allows the pilot to monitor temperatures and fuel flow and set mixture settings for economy or power.
Modeled carefully using the factory builder's guide and several builder's blogs as references.
The model comes with three paint schemes. A livery-makers kit and additional schemes are available below.
I recommend reading the README file before flying. If you don't read it, at least be aware of two things: The nose wheel is not steerable; the Velocity is steered using differntial braking. The Velocity is a very clean airplane; plan your descent well in advance and approach at about 85 knots to minimize runway needs.
This model has no relationship with the Velocity available from the Flightgear repository. Paint schemes from that model will not work with this model.
If flying a version previous to the Dec 5 update under Flightgear 2.12: If your Velocity is showing screwy manifold pressures, swap this file into your Velocity-XL-RG/Systems directory, over-writing the previous version: Velocity_XL_RG-init-engines.xml The current Velocity package has been updated with this fix.
Download:
Velocity XL RG Flightgear 2.10+ version
(13MB) Updated Dec 5 2013
Last updated: Dec 05 2013 Update History
License: Creative Commons
Velocity README Avionics README
Livery-making kit (PSD files) (14MB)
Additional paint schemes (unzip into the Aircraft/Velocity-XL-RG/ directory):
If you would like to see the model in Multiplayer Flightgear but do not wish to fly it yourself, a relatively light-weight "AI" model is now available. This model should be placed in your data/AI/Aircraft directory.
Download: Velocity XL RG AI Version (2MB) Available as of Dec 5 2013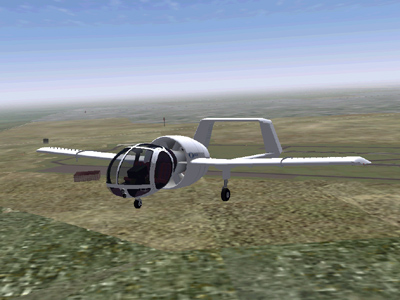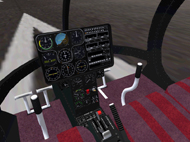 Edgley Optica
There are a lot of fascinating and fun aircraft out there, but for the experience of sheer visibility this innovative plane is hard to beat. You won't go anywhere very fast, but you will see everything along the way. The Optica was designed to compete in the civilian observation market as a low-cost alternative to helicopters. Its ducted fan and isolated cabin made for a relatively quiet, comfortable experience in a forgiving, easy-to-fly airplane.
Flightgear 2.4+ version (3.4MB)
Last updated: Dec 31 Update History
License: Creative Commons
Livery-making kit available on request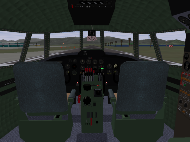 Lockheed 1049H Super Constellation
Last updated: Dec 29 Update History
Flightgear 2.0 version (7MB)
Flightgear 1.9+ version (4MB, last updated Apr 2009)
License: GPL
The 1049H has been donated to the Flightgear repository as of Dec 29 2010. Please look for future updates there. Note that changes may take place to the model that are outside of my control, and I may not be aware of them. I will continue to leave my last version of the model here at this site for a while yet. If you are interested in further information about the 1049 Constellations, feel free to contact me as "Buckaroo" on the Flightgear forums.
For pre-Flightgear 2.0 users, be sure you download the appropriate model for your version of Flightgear. If the version is not correct, you will experience engine/power difficulties as the engine data models are significantly different. Note that the 1049H is built to work correctly under FG 2.0. Contact me if interested in a version compatible with FG 1.0.
Be sure to view the README.txt file for information about this model and helpful hints.
Download and read Yakko's comprehensive guide to this model in PDF format:
"The Lockheed 1049H For Flightgear" by Wolfram Gottfried (11MB, updated Nov 03)
The 1049H Livery-making kit Includes source PSDs used to make Eastern and TWA liveries. (5MB)

Hello Nurse!!! Grab the (totally unofficial and delightfully zany) Animaniacs Livery by Wolfram Gottfried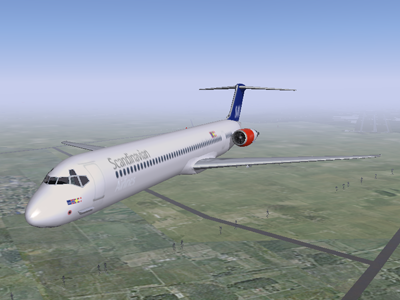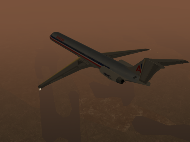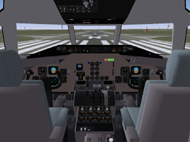 McDonnell Douglas MD-81
This model represents an MD-81 with the JT8D-217 engine upgrade common to many 81's. The cockpit is incomplete but should be sufficient for most operations. Texture mapping is complete and features liveries for American Airlines and Scandinavian Airlines. A livery-makers kit is available from the link below.
Please view the README and other documents below for more information about the aircraft and the model. This and the other documents are especially important for users who may not be familiar with engine start-up, fuel management, and other procedures.
Download: Please contact me Flightgear 2.4+ version (3.7MB)
Last updated: Nov 2012 Update History
License: Creative Commons
Livery-making kit Includes source PSDs with UV maps (6MB)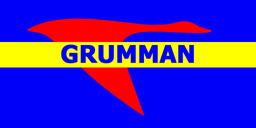 Grumman G-21 Goose
The Goose is currently unavailable while it undergoes a significant update. With the completion of the Velocity, I've begun work on a new version with improved instrumentation, systems simulation, and flight model.
Contact: "Buckaroo" on the Flightgear Forums